As a millennial generation of TV binge-watchers enter the conversation regarding good television in the 2000's, Jewish comedy claims itself a place on the podium. The exposure of the Jewish religion influence in TV comedies began with the popularization of Seinfeld, and has extended itself to the new Amazon series, The Marvelous Mrs. Maisel. Much like Seinfeld, the show centers its comedy around Jewish life, language, ethnicity, hardship, and religion. Specifically, in the 1960's New York setting that is packed with references to Yeshiva, the Holocaust, Jewish "guilt," bar mitzvahs, and even stereotypes. Although, Larry David, in Curb Your Enthusiasm, has mastered the use of Jewish comedy, not every show can compete with this level of comedic genius.
However, Midge Maisel rivals this. Mrs. Maisel is a blend of Larry David's quick and witty humor, combined with the typical Jewish self-loathing and guilt-tripping side comments from Crazy Ex-Girlfriend. Midge's husband Joel leaves her for his secretary, and as a means of figuring out life as a single mother, Midge turns to night-club comedy skits. In a time when women were not expected to persevere in this profession, Midge's brutally honest reflection of her life for comedic effect sets her apart. Not only is Midge's onstage presence feminism-goals, but it also brings into question: why do we find Jewish comedy so appealing? Mrs. Maisel pushes the boundaries of appropriating the Jewish culture while sticking to the familiar feel of life as a New York Jew.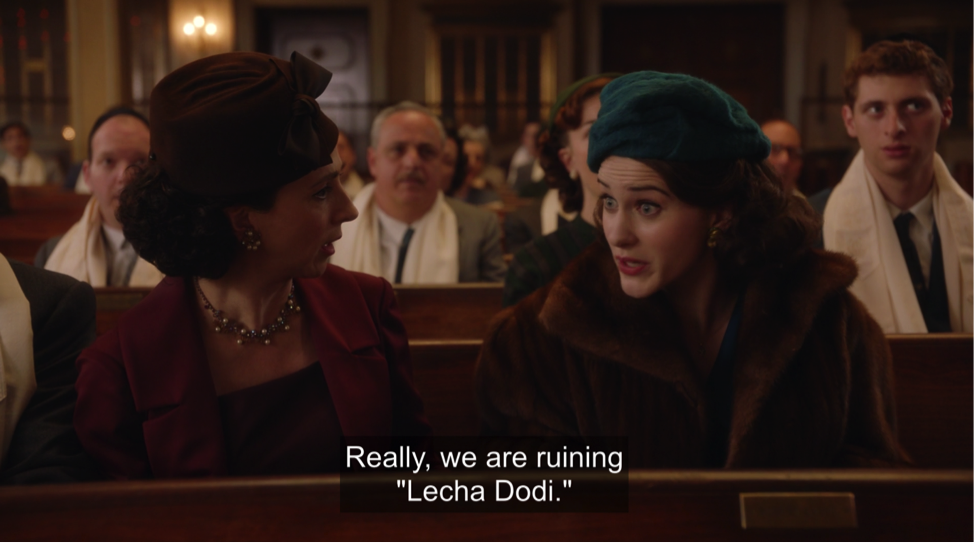 Midge's humor appeals to a certain audience. One that can recognize and empathize with the struggle of the overbearing Bubbe, Jewish guilt as tradition, and all the "oy, doo zugst mir" moments. The use of Jewish humor throughout both successful seasons serves to culturally enrich the series. This specific use of humor is not the only thing that keeps the audience laughter afloat in a room. Midge often does stand-up on "Blue Nights," which refers to dirty-comedy. The 1960 version of dirty comedy is much milder than the 2019 version of dirty comedy, but it does appeal to a larger audience because of its nature.
Some unforgettable moments of poorly placed Jewish humor arise in season 2. Midge outs her best friend on her wedding day for being pregnant after a three-month relationship which turned into a secret shotgun wedding. Standing on a chair at a Catholic marriage ceremony, Midge jokes about having sex with the priest, and uses the F-word for a toast that did not sit well on the big-day. Normally her comedic acts based on her interesting life as a Jewish woman would at least garner a snicker from the audience when she explains that God would not want a priest to have sex. Especially with a Jewish woman! This scene particularly serves as a revealing one. Not once during the two seasons did I question whether or not viewers outside of the Jewish community would "get" her humor. Specifically her references to Jewish holidays, yiddish words, and innate nature to hide things from her nosy parents and in-laws. I "kvelled" at the most relatable scenes as my Jewish upbringing could mirror Midge's young life, but in the modern era. Midge's experiences and cultural references felt so familiar to me that I very well could have been listening to dinner table banter at Yom Kippur. Despite the possible cultural disconnect from a non-Jewish audience, Midge is a relatable character nonetheless because of her brute honesty and openness.