By Cam Surette
In September of 2015, Viacom's Nickelodeon launched "The Splat," a several hour programming block that airs on Teen Nick. This block features shows from Nickelodeon's early days in the '90s, including "Rugrats" (1990-2006), "Doug" (1991-1994), "All That" (1994-2005), and others. It is remarkably nostalgic to tune in to "The Splat" from time to time. Perhaps I watched too many cartoons as a small child, but as an episode starts to progress, I can start to recall the premise of that particular episode and think back to the last time I saw it. "The Splat" is not the only attempt by companies to capture the attention of millennials. Cartoon Network also brought back "The Powerpuff Girls" (2016), as well as "Samurai Jack" (2001-2017). And it's not just cartoons, other shows are making a comeback, too. Some have even been adapted into movies, such as "CHiPs" (1977-1983). But what is the deal with all of the retro content making its way back to television after decades of being off the air? Well, there is a demand for it, and where there is a demand, there is a chance for successful programming.
In an interview conducted by IGN and Cyma Zarghami, President of Viacom Kids and Family Group, Cyma says the following: "We have been listening closely to our first generation of Nick kids that are craving the great characters and shows they grew up with watching Nickelodeon in the '90s." (ign.com) And since the launch of "The Splat," the feedback must have been positive, because several interesting developments have emerged. Another old Nick favorite, "Hey Arnold!' (1996-2004) will come back to Nickelodeon in April with a two-part television movie. Among die-hard fans of the show, this is highly anticipated. In "Hey Arnold!," Arnold is a righteous and kind-hearted boy with a football shaped head. He lives in a boarding house with his two grandparents and spends a lot of time with his best friend, Gerald. "Hey Arnold!" was pretty deep for a children's show at times. There were life lessons and emotional moments that would make me tear up when I was a child. The most emotional aspect of Arnold's character is his parents. Several times during the show, Arnold is portrayed as being saddened and feeling alienated by the fact that he has no parents. In the 60th episode of the third season, "Parent's Day," there is a Parent's Day tournament, where a student and their parent enter as a pair and compete for first place by participating in a series of races and other athletic field events. Arnold feels alienated because his parents are gone. It is revealed that when Arnold was a baby, Arnold's parents went on an exploration to the jungle in order to assist a village in need. Arnold's parents were never seen again. This episode was heartbreaking and leaves fans to speculate for years about what happened to Arnold's parents. Since the show ended in 2004, there has been roughly 13 years of ambiguity with the series. Everyone simply wanted to know, where did this kid's parents go? This could have been intentional, but I would suggest that it was a happy accident that worked in Nick's favor: the new television movie will finally provide an answer. If there was a highly desired show, product, or anything really that was taken away for over a decade, the demand for its reintroduction would be tremendous. When the television movie airs in April, I anticipate that many fans, new and old, will tune in or save it to their DVRs to not only feel nostalgia, but also to finally learn the answer.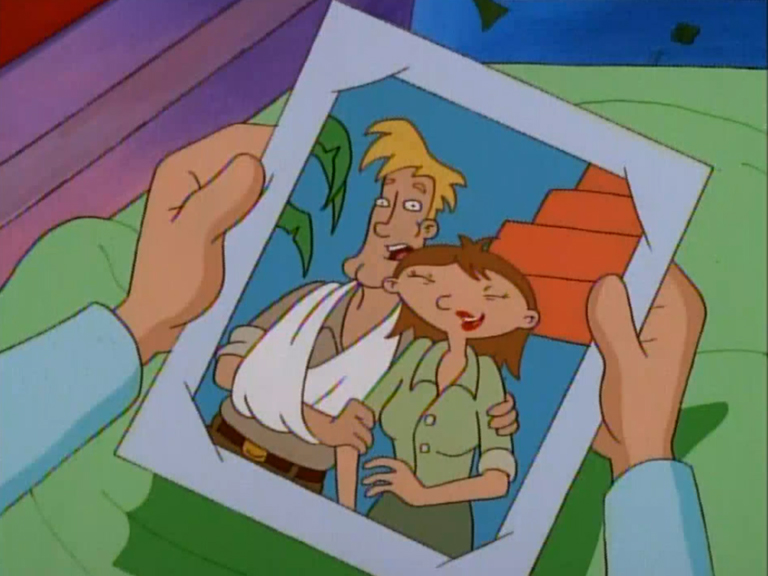 Arnold thinking about his parents.
The revival of all shows, not just cartoons, happens more and more frequently over the course of this decade. Shows like "Hawaii Five-O" (1968-1980), "Full House" (1987-1995), and "Gilmore Girls" (2000-2007) have all been rebooted. During the past ten years, especially during the last two, television shows have been resurrected from the grave in astonishing numbers. The reason for this is popular demand, certainly. But not any show will have a second wind. Only shows that were successful will get another chance on air. The four shows listed previously all had a long run on television, meaning they had many fans, too. When making a television show, using a formula that has been proven to work and has a high demand will equal low risk and a high chance for success. If an executive has the option to choose between reviving a show that ran for nearly ten years, was a financial victory, and still has a large fandom versus an entirely new show and all the uncertainties a new show brings, obviously the reincarnation will win.
Shows that are resuscitated and put back on the air can attribute their chance for new life to the fans. The internet allows all sorts of people (for better or worse) to voice their feelings and opinions online. Since just about anyone today can be contacted via social media, email, or other forms of electronic messaging. When "The Mindy Project" (2012) was cancelled by FOX after its third season, Hulu picked it up. Why did Hulu pick it up? Well, one of the reasons were the fans of the show. Many people voiced disdain for the cancellation of the show. Support such as this exemplifies how powerful the demands of fans can be. Additionally, the return of "The Mindy Project" also is a great example of how entertainment has gained more outlets for exposure. With streaming services such as Hulu and Netflix, content can have a place to live and thrive without having to be on traditional television. In fact, many shows that are reintroduced land on these new platforms. Examples of such shows would be "Fuller House" (2016) (a "Full House" sequel)  and "Arrested Development" (2003-2013) returning to the screen by partnering with Netflix.
That being said, it should be noted that content that is reinvented does not always work out. In a review of "Arrested Development" (2003-2013) and its fourth season, an article from washingtonpost.com explains that the show was perceived to be not nearly as good was what it once was. Of course, it also contributes this notion to the fact that the fourth season was released exclusively on Netflix, thus making all episodes accessible all at once and binge watching easy to do. According to the article, binge watching is what may have added to the criticism of the season, because each episode does not have a chance to sit and digest.
The cast of "Arrested Development."
Whether the show is about a cartoon child with the head only a mother could love or the continuation of a sit com, if it is popular and profitable, there is a good chance that it will have another life. In today's world, networks, writers, content creators, and actors are all able to be communicated with through the power of the internet. The voices of fans and their feelings of nostalgia can be heard now more than ever. And with streaming services becoming more and more apparent in how shows are renewed, the revival of shows will become a much commoner thing. I predict that what is considered retro now and what will be considered retro in the future will be adapted again and again, for the young and for the old.